Boycott Ben & Jerry's
Peace, love & occupation don't mix.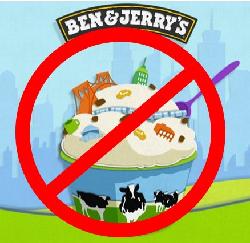 That's why we've called for a boycott of Ben & Jerry's.
In violation of their social mission, their Israeli franchise sells ice cream in illegal, Jewish-only settlements in the occupied West Bank and East Jerusalem, transported on Jewish-only roads, on trucks with Jewish-only license plates, passing easily through military checkpoints that bedevil others.
So much for their social mission.
Since 2013, thousands of individuals and nearly 250 organizations in 20 countries have called on Ben & Jerry's to stop sales to Israeli illegal settlements and to publicly oppose Israel's occupation and settlements.
They have refused to do so.
Ben & Jerry's can't call itself progressive and remain silent on Palestine.
Our appeals to Ben & Jerry's socially responsible image had no effect.
Therefore, a boycott. Click here for a full explanation.

Here is how you or your organization can support this effort:

-> Publicly endorse the boycott and let us know that you did so. Send a pro-boycott e-mail to Jostein Solhem, Ben & Jerry's CEO.
-> Tell local scoop shop owners, you are boycotting. Urge them to pressure Ben & Jerry's about its complicity with Israel's occupation.
-> Ask local supermarkets and food co-ops to remove Ben & Jerry's ice cream from their shelves.
-> Have your organization endorse our organizational letter, and not have free Ben & Jerry's ice cream at its events.
-> Stay informed of campaign developments. Tell your friends through social media, and "like" us on Facebook. Link to the VTJP campaign on your website.

---
Ben & Jerry's in Israel implicated in Human Rights Abuses
by selling ice cream in Shufersal supermarkets
"that profit from Israel's illegal annexation and settlement activity in the West Bank"
(UN Human Rights Report)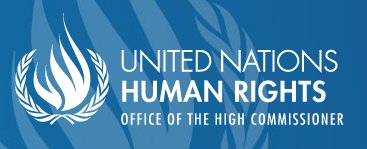 After lengthy delays, the United Nations Human Rights Office finally published a database of businesses that have been profiting from Israel's illegal annexation and settlement activity in the West Bank. The UN High Commissioner for Human Rights, Michelle Bachelet, announced here that 112 major companies had been identified as operating in Israeli settlements in ways that violate human rights.

The UN 'Advance Unedited Version' of the report (12 February 2020) lists those companies.
One of them is the Israeli Supermarket chain

Shufersal

that sells "Peace and Love" Ben & Jerry's ice cream in Israeli-Jewish settlements.
The UN Human Rights Commission lists nine criteria (listed activities) compiled by the fact-finding mission for inclusion in the report; Shufersal came under activities (e) and (g), where
Activity (e) is the provision of services and utilities supporting the maintenance and existence of settlements, including transport;
Activity (g) is the use of natural resources, in particular water and land, for business purposes;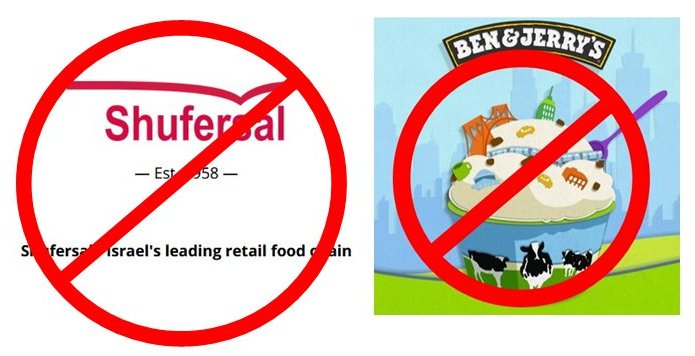 There is an unholy alliance between Ben & Jerry's, their corporate owner Unilever, and the supermarket chain Shufersal. The Ben & Jerry's franchise in Israel makes ice cream using the recipes, branding, and images provided by Ben & Jerry's in Vemont to profit from Shufersal's sales in Israel's illegal settlements. Details here and here


About Shufersal:
It is Israel's longest-standing supermarket chain - whose first branch was launched in 1958.
About

Social Responsibility

they state:

Shufersal has fully adopted the values of corporate social responsibility (CSR) vis-à-vis all its stakeholders: customers, suppliers, employees, the community, and the environment.


The company has 238 supermarket branches. In addition, it engages in income-generating real estate, leasing commercial centers and other properties. It has branches in Mishor Adumim, which is the industrial zone of the West Bank settlement of Ma'ale Adumim and in the settlement of Ariel, as well as in Gilo, which is an Israeli settlement neighborhood in Occupied East Jerusalem. The company's sub-chain, Yesh Supermarkets, has branches in additional West Bank settlements including Modi'in Illit, Ariel, Bithar Illit and in Ramat Eshkol, which is an Israeli settlement neighborhood in Occupied East Jerusalem.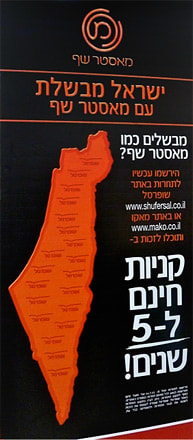 The one-state map of historic Palestine (where is that Green Line?) displayed by Shufersal shows their stores throughout Israel and the Occupied West Bank, as if Palestine and Palestinians do not exist, only a Jewish State exists between the Mediterranean and the Jordan River.

Products manufactured in West Bank settlements are marketed under the brand name Shufersal. For example, in May 2015, they launched a line of branded milk, cream, chocolate and cheese from milk produced in the Occupied Golan, by Ramat Hagolan Dairies. (Adapted from https://whoprofits.org/company/shufersal) also see https://icecream.vtjp.org/settlements.html
More details here